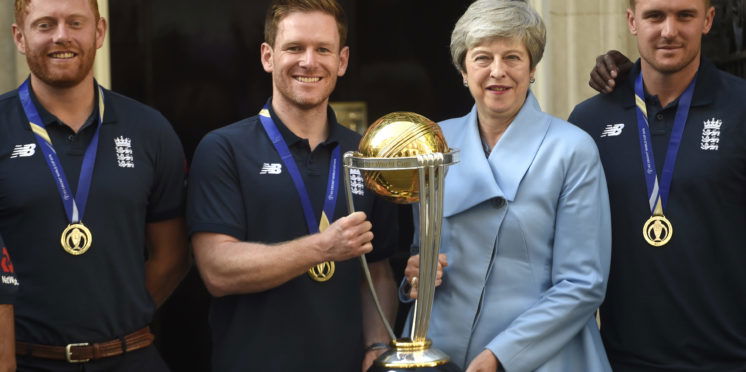 Hopes and dreams crash and build in epic World Cup final
Sunday was the fire that began crackling in English cricket, lighting up something so bright that would blind the rest of the world.
The hopes that had been oh so cruelly shattered in the forgettable 2015 world cup built up to something so great, so fulfilling, as Eoin Morgan finally had the most coveted trophy in the world of cricket in his eager hands.The kiwis however, suffered on the wrong side of the horizon. For them, history repeated itself, and a similar result to hat of the finals in 2015, this time by a new opposition, had to be plainly devastating.
There were a plenty of mistakes committed by both sides, but luck was served heftily on a platter to the English men.
When they had come to chase, a wait long enough to scratch their heads off was desperate to be extinguished, and with what their batsmen had to offer, we saw something absolutely extraordinary.
Ben Stokes was on a hitting spree.
England needed 2 runs off the last ball.
Result- Only a run
Outcome-A super-over.
Now that every nail had been chewed off our fingers, a super over was something the crowd was worried more than excited to witness.15 runs in that one over brought the stadium to a standstill, but when Neesham managed to hit a six off Archer, the priceless expressions on our faces was something the cameras failed to capture.
Again , the equation read 2 off 1 ball.This time the ICC had invaded in with its rules. If the super over tied, England would win. And so it happened.
Buttler skillfully collected the ball to dismiss the batsman, and England created history by the smallest of margins.
The World Cup culminated in heartbreak for Williamson once again, and hopefully, the good guys in cricket would have their due for the immense respect they always show for the sport.
My views may seem to be bending for this one, but with two teams I absolutely adore competing in the finals, it would be a lie if I said that the looks on the faces of the New Zealanders killed my conscience slightly.
Perhaps their time will come next year, when another major ICC tournament awaits us.
Here's to another 4 years of work, before the World Cup returns to its roots in India, where we will be waiting in the stands to find another winner. Until then, let's hope the trophy remains safeguarded in the cabinet of the English ,and the monarchs decide to keep a frequent check on it!
---