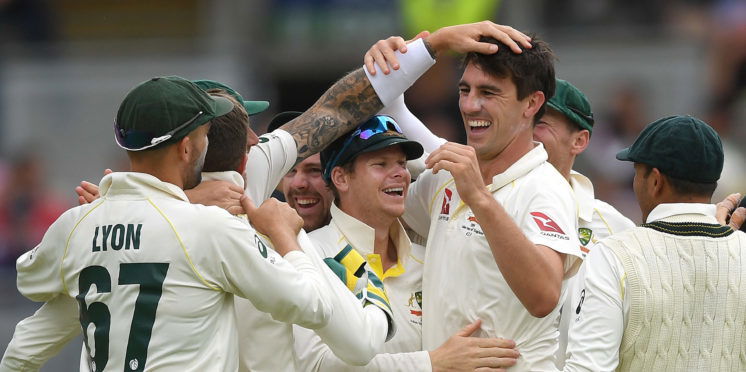 The Ashes: First Test Report
Steve Smith's brilliant batting for Australia proved to be decisive in the first Ashes Test as England collapsed in their second innings at Edgbaston.
The hosts had started off very well in their first home test. However, Australia's second innings set themselves up nicely for either a draw or victory. England's batsmen collapsed on the fifth day ensuring that Australia went 1-0 up in the Ashes.
Day One:
Australia won the toss and elected to bat first at Edgbaston, a decision that they may have regretted. It certainly seemed that they would early on in the third over when Stuart Broad trapped David Warner LBW, with the visitors taking just two runs before their first casualty. It wasn't long before Cameron Bancroft followed him, edging a Broad delivery to Joe Root.
Usman Khawaja thought he was safe at 35-2 after he edged a delivery to wicketkeeper Jonny Bairstow. However, a review overturned that decision and he was out for 13 runs. The Australian team recovered well to go in at 83/3 at lunch. However, the wickets of Travis Head, Matthew Wade, Tim Paine, James Pattinson and Pat Cummins turned the 99/3 respectable score to 122/8. Scoring just 23 runs for the loss of 5 wickets.
A partnership of 88 between Steve Smith and Peter Siddle saved their innings from further embarrassment before Moeen Ali finally dismissed Siddle for 44. Australia managed to recover from 122/8 to 284/9 before Smith was bowled by Broad to end the innings.
England scored just 10 runs before the close of play on day one.
Day Two:
Opening batsman Jason Roy went for a disappointing 10 runs early on in the second day after being caught out by Pattinson. However, England were very lucky not to lose Root twice after having two out decisions overturned. If he'd not reviewed the first decision, he would've been out for 9. Instead, he was finally caught out by Siddle, who had bowled the same ball.
The runs dried up for a couple of the following batsmen who were just below Root in the batting order. Joe Denly and Jos Buttler were out for 18 and 5 runs respectively. Despite this, Bairstow steadied the ship with Rory Burns. The latter managed to get to 100 runs before the day was out, with England finishing in a very healthy position of 267/4.
Day Three:
Although England looked like they had a big advantage over their visitors going into the third day, Australia bowled well, taking themselves from 282-4 to 300-8. Despite this, Chris Woakes and Broad managed to form a good partnership, together taking the side to 365 runs before the latter was caught out by Cummins. James Anderson added just three more runs, whilst clearly struggling with a calf injury. England finished their innings on 374 runs going into tea.
At the start of Australia's second innings, both opening batsmen were caught early on, reducing the side to 27/2 early on. Although Ben Stokes took the third wicket at 75/3, Travis Head came in and steadied the ship for the visitors. They finished the day on 124/3.
Day Four:
The duo of Smith and Head built up a brilliant partnership at the start of day four before the latter was caught by the wicket-keeper Bairstow for 51. A ton-plus partnership between Smith and Wade brought their run tally to 331 before Smith was finally dismissed, preventing him from reaching 150.
Wade also reached a ton before taking an ambitious swing which was caught near the boundary by Denly. Moeen got in on the act to bowl Paine, leaving Australia at 409-7. They score a further 78 runs before they declared near the end of the fourth day.
England started their second innings and ended the penultimate day of the first test on 13 runs without any loss of wickets.
Day Five:
England started the day very poorly and fell to 85-4 before lunch, with the wickets of top-order batsmen Burns, Roy, Denly and Root. Spinner Nathan Lyon took three of those wickets, on a pitch that was starting to work out in the visitor's favour.
They claimed another wicket shortly after lunch, with Buttler being bowled by Cummins for a single run. From then on, England were relying on Stokes and Bairstow to form a good partnership. This was not to be the case, with Bairstow being caught for just six runs. With the score at 97-6, the writing seemed to be on the wall for England, who had hoped to get off to a good start. Stokes followed the next ball, leaving Moeen and Woakes with a near-impossible task of rescuing a draw.
England's collapse from 80-2 to 97-7 was perhaps expected with the pressure on the hosts' batsmen. Moeen was the next to go for 4, with Broad being caught on his first ball. A golden duck is certainly not what England needed. Anderson and Woakes started their partnership at the crease at 136-9 in a bid to build up their score and reduce the deficit. However, Woakes was the last to be dismissed, handing Australia a 1-0 advantage in the five-match series.
The Result: Australia win by 251 runs
---