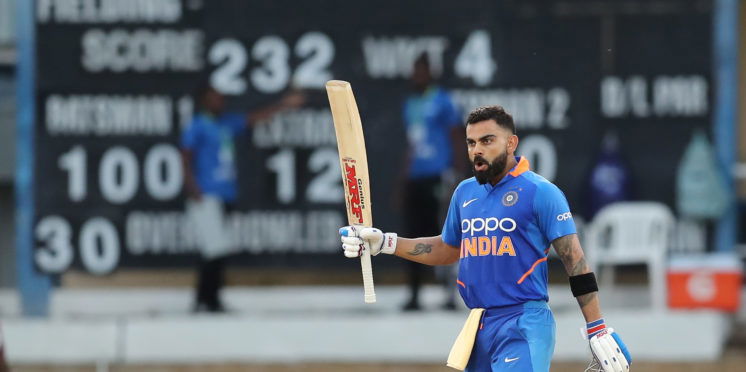 Kohli scores consecutive century as India claim blazing series win
For the first time in this rain dampened series, Jason holder found the coin landing in his favor, ironically, under the watch of the shining sun.
Choosing to bat first, his decision seemed to thoroughly benefit his team, as Gayle came onto the crease looking to fire all guns.
As a result, bowlers were rendered helpless, and the ball made the stands it's favourite spot to be. Sixes were pouring in, and the quickies had their economies soaring to heights.
All until the captain played a move to bring Chahal in, who devilishly tricked the batsman into depositing the ball in the hands of the fielder. And so the downfall began.
Soon thereafter, Gayle lost out too, but with an endearing grin on his face, was given a pleasing send off by the opposition.
The middle order failed to capitalize on the start they were gifted with, and with a frustrating  intervention made by the rain gods, the line up stumbled slightly.
Despite that, 240 in 35 overs was a looming task, beheld carefully yet skilfully by the Indian Batsmen. Rohit Sharma began the innings on an excellent note, driving the ball through the fielders for a blistering boundary. His partner, Shikhar Dhawan seemed to regain his lost touch too, however a great partnership was brought to an abrupt end by the error of miscommunication between the two.
The captain came in next, and the confidence spoke itself with the array of shots we saw from him. Shreyas Iyer came onto assist him with a lovely 50, however the show stopper was the consecutive century hit by Virat Kohli, bagging the award for player of the series, along with taking his team to a 2-0 series win in the Port of Spain, Trinidad.
---