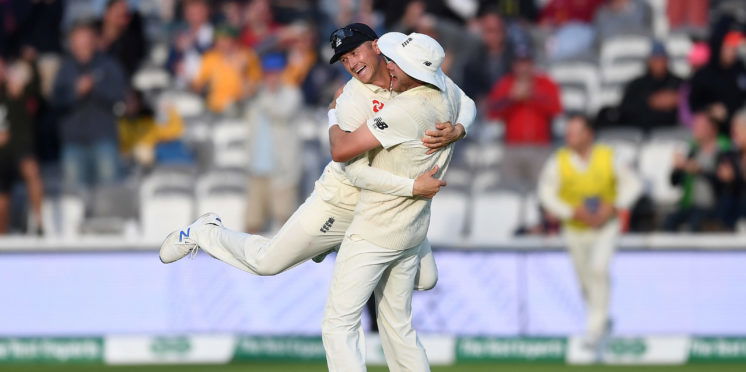 England vs Australia: Second Ashes Test Report
Two days of rain disruption and some resilient batting on the final day meant that the second Ashes test at Lords ended in a draw.
Although Jason Roy was out of form and Steve Smith was ruled out of the final day with an injury, four respectable innings were put together by both sides' batsman. The inexperienced internationals Jack Leach and Jofra Archer did bowl well in this test but did not have enough of an impact to turn the tide towards England in their quest to win the second test at the Home of Cricket.
Day One:
Even though England had hoped to get off the mark early to gather momentum at Lords, persistent heavy rain meant that no cricket was played on the first day of the second test.
Day Two:
Australia won the toss at the start of the second day and elected to bowl first, which seemed like a very good decision in the early stages of the first day. Both Jason Roy and Joe Root fell to deliveries from Hazlewood leaving England in a vulnerable position at 26-2. A partnership of 50 between Rory Burns and Joe Denly meant that the hosts recovered to 76-2 going in to lunch.
England looked like they were back on track at 92-2, before Hazlewood claimed his third wicket from a catch by wicket keeper Paine. Denly was the man to go. Rory Burns, who was the only batsman in the top order to gain a good score with 53 runs, was caught out brilliantly by Bancroft at short leg. Buttler and Stokes were next to go shortly after, with the latter being dismissed for lbw by Nathan Lyon. This left England in a nightmare scenario at 138-6.
Chris Woakes came in to try and stop the rot with Bairstow and managed to survive as a partnership beyond tea. They came in for tea at 201-6. Although Chris Woakes was caught behind for England's seventh wicket at 210-7, he helped to provide stability to the England ship.
20 more runs were added to the tally before Jofra Archer was caught out from a short ball bowled by Cummins. Stuart Broad also put up a similar partnership with Bairstow and was bowled out for 11 runs leaving England at 251-9. Jack Leach and Jonny Bairstow managed to add seven more runs to the total before the latter was caught out. That left them with an innings total of 258 all out.
Australia had time to starting their first innings with the bat and ended on 30-1 on day two, with Warner being bowled out by Stuart Broad early on
Day Three:
The third day was also disrupted severely by the rain, with England and Australia only managing to play the morning session before the game was abandoned late afternoon. Visitors Australia went from 60-1 to 60-3, with Jofra Archer and Chris Woakes taking a wicket each. Bancroft and Khawaja were the two men to go.
Travis Head was trapped lbw by Stuart Broad, which would turn out to be the last wicket of the day. Australia ended the third day on 80-4.
Day Four:
Australia managed to get to over 100 before their fifth wicket fell in the fourth day. Matthew Wade skewed a ball to Rory Burns at fourth slip. That was the only wicket before lunch, where the score stood at 155-5. Jofra Archer then took his second wicket of the innings, dismissing Paine. Siddle and an injured Smith followed, leaving Australia at 234-8. This left England with just a 24 run lead.
12 runs later, Jack Leach took the ninth wicket against fellow spinner Nathan Lyon. They managed to add just four more runs to their tally before Cummins was dismissed. Australia finished their innings on 250 all out.
Despite having a slender lead, England lost two early wickets at the start of their second innings, losing both Jason Roy and Joe Root to Cummins in the same over. The latter failed to score a single run.
At 9-2, it looked like the visitors were in the ascendancy. Burns and Denly managed to build a solid partnership before Denly was caught out by bowler Siddle. Peter Siddle took another wicket before the close of play, with Burns being the casualty of great bowling. They ended the day on 96-4, with a lead of 104 and six wickets remaining.
Day Five:
Play started just after 12pm on day five after a short rain delay. Between then and lunch, England added 61 runs to their tally without a loss of a wicket. This was a brilliant partnership between Stokes and Buttler which lasted until just after the interval, with a Hazlewood catch from a Cummins bowl. His partnership with Stokes was pivotal, even though he only scored 31 runs. Buttler's replacement at the crease was also firing on all cylinders.
Jonny Bairstow scored 30 runs to keep the score ticking over with Ben Stokes until they declared at 258-5. Stokes' 115 was one of the most impressive innings in this test match along with the fine form of Smith, who had been ruled out of the rest of the test at the start of day five.
With England declaring and looking for a win, it was vital that the hosts got off to a quick start. This is exactly what they did, with Jofra Archer taking two wickets in the opening ten overs. Warner and Khawaja were the men to go, scoring just seven runs between them. Australia managed to recover at 46-2 before tea, with a draw the likeliest outcome at that point.
A brilliant ball from Jack Leach to Cameron Bancroft shortly after tea deceived the top order batsman for an lbw dismissal. However, the solid partnership that substitute Labuschagne (59 runs) and Head (42 runs) forced a draw, which keeps Australia 1-0 up in the Ashes series.
Labuschagne was eventually caught out by Joe Root, with Wade following shortly after after some brilliant bowling by Leach which allowed Buttler to take a catch, scoring just a single run. When Paine was caught out brilliantly by Denly, Australia started to panic with six wickets gone. However, Head and Cummins defended well and allowed the visitors to draw the game.
The game finished with Australia 154-6, 112 runs behind England with four wickets remaining.
The Result: Draw
The scorecards for this test can be found here.
---