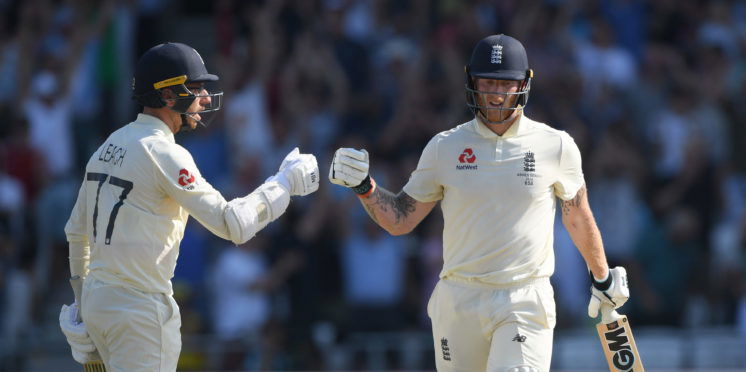 England vs Australia: Third Ashes Test Report
England made one of the best ever test comebacks to win the third Ashes test at Headingley.
Australia scored just 179 runs in their first innings, leaving the hosts with a good chance to take a commanding lead. However, England scored just 67 which left the hosts in an awful position in the third test unless something drastic happened.
The Aussies scored a respectable 246, with England needing to score a near-impossible 359 to win the test against all odds. A brilliant partnership between Ben Stokes and Jack Leach secured an almost impossible victory for England.
Day One:
The start of play on day one at Headingley was slightly disrupted by rain, which meant that play started a little later. England won the toss and elected to bowl, which proved to be a smart decision looking back at the end of the first day.
Marcus Harris was the first batsman to be dismissed, edging a delivery from Jofra Archer straight in to the gloves of Jonny Bairstow. This was just before the players were taken off again because of the weather conditions. The players went in to lunch early, in the hope that the players would get a decent amount of playing time on the first day.
Khawaja was the next to go after lunch with a brilliantly used review by Jonny Bairstow and the England side. The wickets seemed to dry up for a while after that, with Warner and Labuschagne building up a decent partnership. Rain stopped play once again in the 15th over.
Warner was finally bowled out taking the score to 136-3, which was a very respectable score for the visitors at the time after a difficult start. Travis Head and Matthew Wade soon followed Warner, with both of the middle-order batsmen unable to score a single run between them. This collapse from 136-2 to 139-5 put England right back in the game, this spell proved to be crucial for the hosts.
Another brilliant review from England saw Tim Paine dismissed for lbw from a Chris Woakes bowl. This left Australia on 162-6, who were now relying on a partnership between Labuschagne and Pattinson. However, this was not to last. Pattinson fell victim to a great bowl from Archer, with captain Joe Root taking a high catch at first slip. At 173-7, Australia added just 16 more runs for the loss of the remaining three wickets.
Jofra Archer took two more wickets either side of Labuschagne's dismissal by Ben Stokes. Cummins and Lyon were the players who were just two of the players to fall at the brilliance of Archer.
Day Two:
The second day turned out to be a complete nightmare for England. Roy, Root and Burns all fell in quick succession leaving the hosts at just 20 runs for the loss of three wickets. Hazelwood dismissed Roy and Root whilst Cummins took the third wicket at the expense of Rory Burns.
Pattinson then came in and made a big impact early on, dismissing Stokes and Denly, who both skewed balls that were caught easily. This was awful for England, who were struggling majorly at 45-5.
It didn't get any better for England and ended up on 54-6 before lunch, with Jonny Bairstow being the latest England international to edge a delivery in behind. The break didn't make any difference and Chris Woakes was dismissed from a catch by wicket keeper Paine. This was England's first bowl after lunch. Buttler was the next to go after being caught at cover from another Hazlewood bowl. Jorfra Archer fell victim to a bouncer from Cummins, before Leach was bowled by an in-form Hazlewood. England scored just 67 runs in their first innings and were all out shortly after lunch.
Australia started their second innings (remarkably) early on in the second day. Everything was looking better for England when Warner went for lbw from a Broad bowl at 10-1. However, England remained frustrated for the rest of the day, despite the dismissals of Harris (from spinner Leach) and Khawaja (from Woakes).
Although a 52-3 scoreline was good news for England, Australia still led by 164 at that time because of the hosts' poor batting earlier on in the day. Australia added 30 more runs before tea.
A brilliant yorker from Stokes got the better of Head, although Labuschagne continued to frustrate England with his batting. He could have been out in the 39th over, however he used his review well and had the out decision overturned.
England claimed two more wickets late on in the day, with middle-order batsmen Wade and Paine the ones to fall. Australia ended the day on 171-6, 283 runs ahead of England with four wickets to go.
Day Three:
Australia continued to frustrate England early on in the third day of the third test and they managed to reach 215 runs in the second innings before Pattinson was caught out by Root. His replacement Cummins scored just six runs before he was also dismissed. He edged a Stokes delivery to Rory Burns.
The key wicket for England came next, when Labuschagne was run out by a brilliant combination of work from thrower Joe Denly and wicket keeper Jonny Bairstow. Lyon was the last player to fall for Australia, after being bowled by the brilliant Archer.
England showed fight in their short session at the crease before lunch, scoring 11 runs without loss. However, it was the same old story for England after lunch, losing two wickets in quick succession and slipping to 15-2. Burns and Roy were the men to go. The hosts recovered to 90-2 before tea, with Root and Denly building up a great partnership.
The only other man to go between tea and stumps was Denly, who made an impressive 50, whilst building up a potentially match-saving partnership with Root. He was caught out by captain and wicket keeper Paine. England ended the day on 156-3.
Day Four:
Joe Root was dismissed early on in the fourth day, adding just two more runs to his total before being caught out by Warner on 77 runs. Despite this, Stokes and Bairstow managed to build up a good partnership that left England on 238-4, needing 121 more runs to win the test.
Three wickets in the second session of the day between lunch and tea left England in a vulnerable position. Bairstow was dismissed for 35, along with Buttler and Woakes who scored just one run each. Bairstow and Woakes fell victim to Hazlewood, whilst Buttler was run out by Travis Head.
A 286-6, it looked like the comeback was still on. However, the brilliance of Lyon benefitted the Aussies once again and suddenly England were left with the huge task of scoring 73 runs to win with just two wickets remaining.
Only Stuart Broad and Jack Leach could now save Ben Stokes, who was scoring well. Broad was bowled out for a duck lbw by Pattinson, which left Jack Leach as England's only hope with 73 runs to win. Against all odds, Stokes and Leach managed to bat to victory and secured the win before tea.
The Result: England win by 1 wicket
The scorecards for this test can be found here.
---