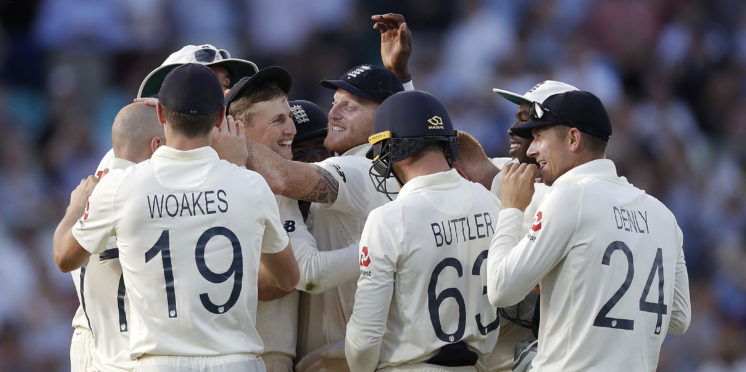 England vs Australia: Fifth Ashes Test Report
A combination of solid batting and exception bowling pushed England on to victory at the Oval in the fifth and final Ashes test.
Despite England levelling the series at 2-2, Australia retained the Ashes urn.
Day One:
Australila won the toss yet again on day one, with the visitors electing to bowl first. This was seen as a strange decision by Tim Paine, a decision that seemed to prove costly as England built up a good total.
Although Joe Denly was dismissed by Pat Cummins for just 14 runs, the second wicket wasn't taken until England were at 103-1. Burns was the man to go this time after hooking a Hazlewood delivery in to the palms of Mitchell Marsh. Another delivery was scooped up by an England batsman not long after, with Ben Stokes only contributing 20 runs to the cause.
Joe Root, who had made a half century, was bowled straight after tea by Pat Cummins. His partner at the crease, Jonny Bairstow, was surprised by a fantastic inswinger from Marsh that hit the batsman on the pads plumb in front of the wicket.
Although Pat Cummins thought he took another wicket through a Sam Curran lbw, replays showed that he bowled a no ball. Despite this, Curran didn't make the most of his fortune and edged a Marsh delivery to Steve Smith at second slip. Josh Hazlewood got in on the act again, forcing Archer to edge his shot to wicket keeper Paine, who has missed many catches throughout this series.
This meant that England slipped from 169-3 at tea to 226-8 when Archer was dismissed. The hosts managed to recover with Jos Buttler's half century and some solid defensive batting from spinner Jack Leach. They finished the day on 271-8.
Day Two:
England had their innings cut short before lunch on day two. Both Buttler and Leach were bowled, with the latter falling to Mitchell Marsh, who got five wickets in the first innings on his return to the Australia side. England were bowled out for 294.
Two early wickets from Jofra Archer put England on the front foot in the early stages of Australia's first innings, falling to 14-2. However, England had the partnership of Marnus Labuschagne and Steve Smith to contend with. It looked like Australia had recovered at 83-2 until Labuschagne fell victim to another Archer wicket. This lbw was crucial for England, who desperately needed to break up that partnership as soon as they possibly could.
Sam Curran then took his first wicket of the series, with Wade being the man to go via lbw. This was just before Steve Smith got to his half century. Mitchell Marsh, who attempted to loft an Archer delivery to the boundary, was caught out for 17 runs. Captain Paine struggled with the bat yet again, slicing a tricky Curran delivery to Jonny Bairstow. Sam Curran wasn't finished there, taking another two consecutive wickets. Pat Cummins and vitally, Steve Smith were the men to go.
Jofra Archer was also impressive late on in the day, bowling Nathan Lyon with a full toss and then taking the 10th and final wicket. Rory Burns' brilliant catch ensured that Australia were bowled out before the second day was over.
England faced a difficult few overs, where Rory Burns successfully overturned an lbw decision from umpire Dharmasena. They finished the day on nine runs without a loss of a wicket.
Day Three:
Burns and Denly contined their partnership until Lyon's delivery was bottom edged by Rory Burns, straight in to the gloves of Paine. Joe Root was the second man to go shortly before lunch, where England ended up of 88-2. A solid partnership between Joe Denly and Ben Stokes meant that England didn't lose a single wicket in the session between lunch and tea.
Nathan Lyon finally made the breakthrough, bowling Ben Stokes after tea. However, England were still in a secure position on 214-3 and leading by 283 runs. After Joe Denly's agonising dismissal through Peter Siddle's first wicket of this innings, England's middle order started to collapse. Another disappointing innings from Jonny Bairstow followed, Sam Curran was impressively caught by Paine and Chris Woakes was also impressively caught out. This time, it was at second slip from Steve Smith.
After a careless midfield earlier on in the innings, Marnus Labuschagne made up for this from a Buttler scoop, taking a solid catch from deep. Jofra Archer and Jack Leach managed to survive until the end of the day, finishing on a disappointing 313-8 considering they were at 214-3 earlier on in the day.
Day Four:
Pat Cummins and Nathan Lyon took one wicket each as they bowled England out very early on in day four. This was after Stuart Broad scored two sixes! England finished on 329 all out, setting Australia a target of 389 runs to win the fifth and final test to take a 3-1 win.
Australia's openers Marcus Harris and David Warner were both out early on yet again in the second innings, both falling to Stuart Broad. Despite taking these two early wickets and Australia with only scoring 29 runs, England still had a lot of work to do.
Was a Labuschagne and Smith partnership going to save Australia again? They couldn't rely on these two this time, with both batsmen falling for 14 and 23 runs respectively either side of the lunch break. Labuschagne was stumped by Jonny Bairstow, whilst Ben Stokes took a brilliant catch to end Steve Smith's time at the crease.
England managed to take a wicket after a frustrating period just after tea, with Jack Leach dismissing captain Paine just after the Aussies reached the 200 runs mark. They added 44 more runs to their total and frustrated England before taking their next wicket. Cummins fell to Stuart Broad, who has performed reasonably well in this series.
Once the eighth wicket fell, the match finished very quickly. The second stumping of the innings by Jonny Bairstow finally meant that the hosts had got the better of Matthew Wade. Nathan Lyon's sweep was caught low by Joe Root from a Jack Leach delivery, before the same combination defeated Josh Hazlewood to clinch the win for England.
The Result: England win by 135 runs
The scorecard for this match can be found here.
---