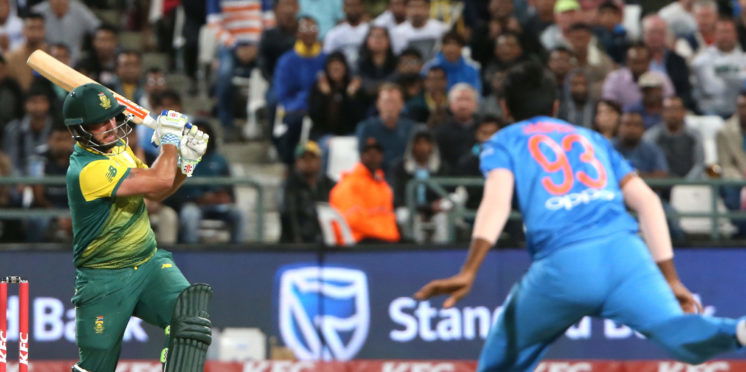 South Africa succumb to average performance against India in Mohali
In the second game of the series, the bandwagon landed in the city of Mohali, where the enthusiastic support enveloped the teams in an engulfing hug. The PCA provided satisfying homage to both the teams, after the first t20 was washed away in Dharamshala.
Post the national anthems sung with zeal, the South African openers set foot on field with a determined body language, perhaps, in an attempt to make amends to the mockery made of their reputation in the World Cup.
After a wicket fell, the newly – appointed captain stepped to the pedestal with the burden of several responsibilities on his shoulders, and boy, did he deliver a worthy performance. Quinton de Kock made a sturdy 52, and well, the flying skipper from the opposite team managed to rule him out at a critical stage, with a splendid catch off Navdeep Saini.
After some quick scalps to rattle the back bone of the line-up, it was Protorius who managed to sail some delivers into the stands, helping South Africa huff and puff to a respectable total.
Despite that, the match turned into a one sided contest soon. Even though Dhawan and Rohit did not retain their stay at the pitch for long, Virat Kohli's unfathomable form guided India across the threshold of victory.
However, victory could not hide the problems that arose in the match. South Africa's middle order failed to perform in situation under pressure, and the bowlers weren't able to take wickets at crucial junctures to make a mark in the match.
For India, the disappointment lay in the form of Rishabh Pant, who in an attempt to score a boundary, returned to the pavilion with single digits against his name, once again. His performance would give some place of concerns to the management, and hopefully, his form picks up at a speedy rate, to prove him a deserving candidate for all the backing he has received.
---